Vaccinations,
what they are protecting against?
Feline Vaccinations and Viruses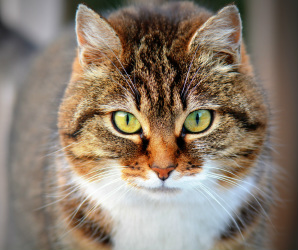 FVRCPC is an acronym for the standard cat vaccine, also called "the feline distemper vaccine", given to cats and kittens throughout their lives as part of a preventative health program and considered, along with the Rabies vaccine, as a core (very important) vaccine.


FVR Feline rhinotracheitis virus (feline herpesvirus 1)-A viral infectious respiratory disease caused by feline herpesvirus type 1. This virus is an extremely common cause of respiratory disease and often results in chronic, often life-long, infection with intermittent recurrences causing respiratory and sometimes eye disease. It is spread easily through airborne respiratory secretions and direct contact with a carrier cat or contaminated objects. Unvaccinated cats are most susceptible as well as the very young and the very old.
C Calicivirus- A common viral infectious respiratory disease, can also cause mouth sores resulting in severe oral pain. Spread by direct contact with an infected cat or by contact with contaminated objects. The virus is very resistant to disinfectants and persists in the environment. Unvaccinated and inadequately vaccinated cats of all ages are at risk.
P Panleukopenia-A severe, highly infectious and sometimes fatal disease of the gastrointestinal tract, the immune system and the nervous system. The disease is named for the characteristic severe decrease in white blood cells, the body's defense against disease. The virus is very persistent in the environment. This virus spreads by direct contact with infected cats or by contact with viral particles in the environment. Unvaccinated and inadequately vaccinated cats of all ages are at risk.

C Chlamydiosis: is caused by the bacteria, Chlamydia psittaci. Conjunctivitis (inflammation of the tissues lining the eyelids and covering part of the eyeball) is the most common sign, but sneezing and nasal discharge may also occur. The bacteria are transmitted through direct contact with an infected cat, and the highest rates of infection are in cats between five weeks and nine months of age, especially those residing in multiple-cat environments with a history of respiratory tract disease. Cats vaccinated against chlamydiosis are not protected from infection but are expected to experience less severe disease if infected. Vaccination is recommended if your cat resides in a multiple-cat environment where chlamydiosis has been confirmed in other cats.

In adult cats we recommend the first vaccination be done a second time with a 21 day period in between. After this process has been completed this vaccination is an annual vaccination. Our FVRCCP Vaccination includes an annual exam.

---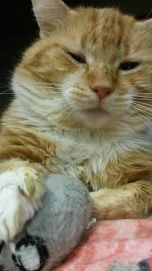 FeLV Feline Leukemia Virus is the leading viral killer of cats. The virus is spread in the saliva and nasal secretions of infected cats; infection is transmitted through prolonged contact with infected cats, bite wounds, and from an infected mother cat to her kittens. Disease caused by FeLV is very serious, and it is estimated that fewer than 20 percent of infected cats will survive more than three years after being infected. Anemia (a deficiency of oxygen-carrying red blood cells), cancer, and secondary infections resulting from immune deficiency are the most common consequences of infection.

Outdoor cats, indoor/outdoor cats, and cats exposed to such individuals are at greatest risk of exposure to FeLV. Cats living in households with FeLV-infected cats or with cats of unknown infection status are also at risk. Kittens younger than 4 months of age appear to be much more susceptible to infection than are adult cats. Indoor-only adult cats with little chance of exposure to potentially infected cats are not likely to be exposed or infected. Vaccination against FeLV is recommended for cats at risk of exposure, especially those younger than four months of age. Vaccination is not recommended for cats with minimal to no risk of exposure, especially those older than four months of age. Because FeLV vaccines do not induce protection in all cats, avoiding exposure to infected cats remains the single best way to prevent your cat from becoming infected.

We recommend testing all new kittens/cats or cats with unknown history coming into your lives at their first visit.
After the test is negative we can vaccinate your kitty. We recommend the first vaccination be done a second time with a 21 day period in between. After this process has been completed this vaccination is an annual vaccination.


---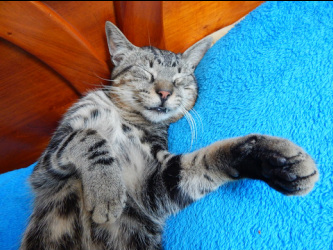 FIV Feline Immunodeficiency Virus is another viral killer of cats. The primary mode of virus spread is through bite wounds, so cats that get outdoors and fight are at greatest risk of infection. Cats in households with stable social structures where housemates get along well are at little risk.

Infected cats may appear normal for years. However, infection eventually leads to a state of immune deficiency that hinders the cat's ability to protect itself against other infections. The same bacteria, viruses, protozoa, and fungi that may be found in the everyday environment - where they usually do not affect healthy animals - are responsible for many of the diseases associated with FIV.

Keeping cats indoors and away from potentially infected cats that might bite them markedly reduces their likelihood of contracting FIV infection. Vaccines to help protect against FIV infection are available. Not all vaccinated cats will be protected, so preventing exposure will remain important even for vaccinated pets. In addition, vaccination may have an impact on future FIV test results. It is important that you discuss the advantages and disadvantages of vaccination with your veterinarian to help you decide whether FIV vaccines should be administered to your cat.
---
Canine and Feline Rabies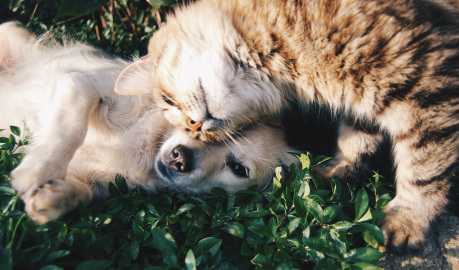 Rabies Vaccination
The rabies vaccine is a core vaccine for both cats and dogs.

Rabies is a viral disease that affects the brain and spinal cord of all mammals, including cats, dogs and humans. This preventable disease has been reported in every state except Hawaii, and annually causes the deaths of more than 50,000 humans and millions of animals worldwide.

Rabies is most often transmitted through a bite from an infected animal. Less frequently, it can be passed on when the saliva of an infected animal enters another animal's body through mucous membranes or an open, fresh wound. The risk for contracting rabies runs highest if your pet is exposed to wild animals. Outbreaks can occur in populations of wild animals (most often raccoons, bats, skunks and foxes in this country) or in areas where there are significant numbers of unvaccinated, free-roaming dogs and cats. In the United States, rabies is reported in cats more than in any domestic species.

Animals will not show signs immediately following exposure to a rabid animal. Symptoms can be varied and can take months to develop. Classic signs of rabies in pets are changes in behavior (including aggression, restlessness and lethargy), increased vocalization, loss of appetite, weakness, disorientation, paralysis, seizures and even sudden death.

At present, the number of reported feline rabies cases in the United States far exceeds that of dogs* and all other domestic animals. Rabies is routinely fatal and is a major public health concern. Because of the potential for human exposure, rabies vaccination is recommended for all cats and is required by law in many parts of the country.

Unvaccinated pets who are allowed to roam outdoors are at the highest risk for rabies infection. Outdoor pets may, in the course of daily life, get into a fight with an infected wild animal or an infected stray dog or cat. And although widespread vaccination programs have helped to control rabies in dogs, feral cat populations remain a reservoir host for the rabies virus.

This vaccination is valid for 1 year at first vaccination. After the initial vaccine is administered, the vaccine is good for every 3 years.


*The law states that all dogs 6 months of age or within 30 days of living in a new county to be licensed. This is a service we provide for dogs living in Marion County. We can do the licensing at the time of your visit and save you the postage, as it is a separate transaction we do need payment for Marion county to be either in cash or check. If you reside in a different county we can send you home with the certificate required for your pet to properly become licensed. For more information on Marion County Dog Control Licensing click this link: http://www.co.marion.or.us/CS/DogServices/doglicenseinfo.htm
This vaccination must be administered by a licensed veterinarian.

Discounts on your licensing (through Marion county) is available for dogs that are spayed/neutered and even more for those who are also belonging to citizens over 65 years of age.
---
Canine Vaccinations and Viruses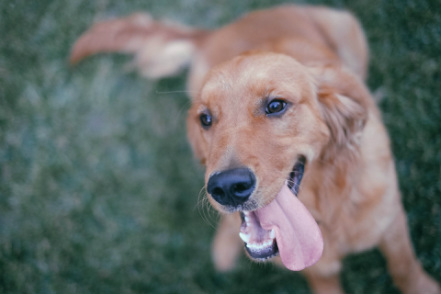 DHLPPCis an acronym for the standard dog vaccine, also called "the canine distemper vaccine", given to dogs and puppies throughout their lives as part of a preventative health program and considered, along with the Rabies vaccine, as a core (very important) vaccine.


D Distemper, is a virus that affects a dog's respiratory, gastrointestinal and central nervous systems, as well as the conjunctival membranes of the eye. The first signs of canine distemper include sneezing, coughing and thick mucus coming from the eyes and nose. Fever, lethargy, sudden vomiting and diarrhea, depression and/or loss of appetite are also symptoms of the virus. The virus is passed from dog to dog through direct contact with fresh urine, blood or saliva. Sneezing, coughing and sharing food and water bowls are all possible ways for the virus to be passed on. Puppies and adolescent dogs who have not been vaccinated are most vulnerable to the distemper virus. They are typically rescues with unknown vaccination histories or have been bought from pet stores.
Serious infections are most often seen in puppies or adolescent dogs. Puppies younger than seven weeks, born to mothers who haven't been vaccinated against the virus, are extremely susceptible. Once infected, puppies are severely weakened. Often the virus travels to the brain, causing seizures, shaking and trembling. A weakened immune system leaves an infected dog open to secondary infections like pneumonia.

Make sure your dog has completed his series of vaccinations. The vaccine for dogs is called the distemper shot. If you have a puppy, make sure he gets his first vaccination at six to eight weeks of age. Be sure to keep him away from any possibly infectious dogs or environments until he's finished with his vaccinations at four or five months old.
Also, routine cleaning and disinfecting your home (or kennel) will ensure that the virus is not in your dog's living environment.


H Hepatitis, Infectious canine hepatitis is a highly contagious viral infection that affects the liver, kidneys, spleen, lungs, and eyes in dogs and wild canines. It occurs worldwide, though it is rare in the United States, and it mostly affects young dogs under one year of age, though it can affect adults. Most cases occur in wild or unvaccinated dogs. This virus is a resilient virus, able to survive outside of the host for weeks or months, and may only be killed using certain disinfectants. Your dog can contract this virus through direct contact with infected saliva, urine, or feces, either with your dog's mouth or nose. Even a dog dish that has been licked clean can carry the virus. The tonsils and lymph nodes are the first body parts affected. The incubation period can last four to nine days, after which the virus enters the bloodstream.This disease can cause a very wide range of signs and symptoms.
In mild cases, your dog will display a mild fever, moderate lethargy, and slight loss of appetite.
In more severe cases, your dog can develop a biphasic fever (a fever associated with two different sets of symptoms as it progresses) for one to six days, pass bloody diarrhea or bloody vomit, tuck up their belly from pain associated with the liver, become sensitive to light (which may cause tearing or squinting), and refuse to eat. Death can occur within a few hours and veterinary attention will need to be sought immediately.

The fatal form of the disease results in a sudden onset of severe symptoms. Bleeding from the nose and gums, enlarged abdomen due to fluid leaking from the liver, bloody diarrhea and vomit, seizures due to central nervous system association, disorientation, coma, and death may occur. Dogs may die suddenly without any obvious illness. Infectious canine hepatitis is most severe, and the mortality rate is highest, in young dogs. Veterinary attention will need to be sought immediately.

L Leptospirosis is found in both domesticated and wild animals, and the main carriers of the bacteria are rats, pigs, raccoons, cattle, fox, skunks and opossums.Leptospira bacteria are transmitted through urine that contaminates water sources and can remain infectious in soil for up to six months. Dogs pick up the bacteria through a cut or break in the skin when they come in contact with contaminated water or soil, or when they drink contaminated water.
Dogs most at risk for leptospirosis are those that spend a lot of time in the water or in areas that get rain or snow runoff, as well as dogs that drink from puddles or ponds.
Many dogs with mild lepto infections never show any symptoms at all. Generally speaking, young dogs tends tend to get sicker than older dogs.
Clinical signs depend on the age and health of the dog, environmental factors affecting the bacteria, and the virulence of the particular species of bacteria that is present.
When symptoms do occur they usually appear between 4 and 12 days after exposure to the bacteria, and can include fever, muscle pain, vomiting and diarrhea, loss of appetite, lethargy, depression, and blood in the urine.
A lepto infection primarily affects the kidneys and liver, so in serious cases, there can be jaundice, which is a yellowing of the skin and mucous membranes. In dogs, it is usually most obvious in the whites of the eyes. Jaundice indicates the presence of hepatitis (liver inflammation) as a result of the destruction of liver cells by the bacteria.
Blood clotting problems can also develop, which can result in blood in the stool and bleeding from the tissues of the mouth. In rare cases, leptospirosis can also cause respiratory distress and acute pulmonary (lung) hemorrhage.

P Parainfluenza, is easily spread from dog to dog and causes symptoms which may become fatal. The highest instances of this respiratory infection are seen in areas with high dog populations, such as race tracks, boarding kennels and pet stores, but it remains highly contagious to any dog of any age.Symptoms can vary in intensity and commonly affect younger puppies and aging dogs the worst.
Symptoms include:
Dry or hacking cough that may worsen with activity
Fever
Difficulty with breathing, wheezing
Runny nose
Sneezing
Runny eyes, eye inflammation or conjunctivitis
Possible pneumonia with depression, loss of appetite and lethargy

When parainfluenza virus is suspected but only a cough exists, certain tests will be required to differentiate between kennel cough and the more serious parainfluenza virus. A chest x-ray can help to determine the presence of pneumonia. Blood testing may also be important to rule out other possibilities and to inspect over a period of weeks to determine the actual cause of illness. Quickly discovering a proper diagnosis can be helpful when deciding if the dog must be quarantined or to begin effective treatment as soon as possible.

P Parvovirus is a highly contagious virus that can affect all dogs, but unvaccinated dogs and puppies younger than four months old are the most at risk. The virus affects dogs' gastrointestinal tracts and is spread by direct dog-to-dog contact and contact with contaminated stool, environments, or people. The virus can also contaminate kennel surfaces, food and water bowls, collars and leashes, and the hands and clothing of people who handle infected dogs. It is resistant to heat, cold, humidity, and drying, and can survive in the environment for long periods of time. Even trace amounts of stool containing parvovirus may infect other dogs that come into the infected environment. It can be transmitted from place to place on the hair or feet of dogs or via contaminated cages, shoes, or other objects.
Some of the signs of parvovirus include lethargy; loss of appetite; fever; vomiting; and severe, often bloody, diarrhea. Vomiting and diarrhea can cause rapid dehydration, and most deaths from parvovirus occur within 48 to 72 hours following the onset of signs. If your puppy or dog shows any of these signs, you should contact your veterinarian immediately. Due to the highly contagious nature of parvovirus, infected dogs must be isolated in order to prevent the spread of the infection.
The best way to prevent parvovirus is through good hygiene and vaccination. Make sure to get your puppies vaccinated, and that your adult dogs are kept up to date on their parvovirus vaccination. Talk to your veterinarian about a canine parvovirus vaccination plan that is best for your pet. Until a puppy has received its complete series of vaccinations, pet owners should use caution when bringing their pet to places where young puppies or dogs with unknown vaccination histories congregate.


C Coronavirus is a highly contagious intestinal disease that can be found in dogs all around the world. This particular virus is specific to dogs, both wild and domestic. The coronavirus replicates itself inside the small intestine and is limited to the upper two-thirds of the small intestine and local lymph nodes.
The symptoms of infection vary. In adult dogs, the majority of infections will be inapparent, with no symptoms to show. Sometimes, a single instance of vomiting and a few days of explosive diarrhea (liquid, yellow-green or orange) may occur. Fever is typically very rare, while anorexia and depression are more common. Occasionally, an infected dog may also experience some mild respiratory problems. Puppies may exhibit protracted diarrhea and dehydration, and are most at risk of developing serious complications with this virus. Severe enteritis (inflammation of the small intestine) in puppies will occasionally result in death.
The most common source of coronavirus is exposure to feces from an infected dog. The viral strands can remain in the body and shed into the feces for up to six months. Stress caused by over-intensive training, over-crowding and generally unsanitary conditions increase a dog's susceptibility to infection. Additionally, places and events where dogs gather are the most likely locations for the virus to spread.


DHLPPC is an annual vaccination. For puppies or adults who have never had this vaccination a series of boosters are necessary for full immunity to develop. Once these booster series have been completed the vaccination becomes an annual vaccination.Our DHLPPC vaccination includes an annual exam so we can make sure your dog gets fully checked out each time they come in for their annual vaccination.
---

B Bordetella is commonly referred to as kennel cough, This virus is a very highly contagious respiratory disease among dogs. It causes inflammation of the trachea and bronchi. This disease is found throughout the world and is known to infect a very high percentage of dogs at least once during their lifetime. It is also medically referred to as tracheobronchitis and Bordetella. Young puppies can suffer the most severe complications that can result from this disease, since they have an underdeveloped immune system that is still strengthening. Also at increased risk are older dogs, which have decreased immune capabilities, and pregnant bitches, which also have lowered immunity to infections.
SYMPTOMS
• Dry hacking cough is the most common symptom
• Cough may sound like honking
• Retching
• Watery nasal discharge
• In mild cases, dogs would likely be active and eating normally
• In severe cases, symptoms progress and can include pneumonia, lack of appetite, fever, lethargy and even death
• Unvaccinated puppies and young dogs, or immunocompromised dogs might experience the most severe symptoms of the disease

Most of the time there has been a recent boarding that has placed the dog in contact with a number of other dogs. Due to this we require all our boarding dogs to be current on this vaccination. We recommend that if you are taking your dog to boarding facilities, groomers and dog parks or any other place where dogs congregate to have your pet up to date for this vaccination.
For frequent visits and routine boarding or with pets who are more susceptible this vaccine is recommended every 6 months. We do an intranasal vaccination for the first time a dog receives this vaccine and then it is boosted a month later, after that the vaccination is an annual vaccine.
---