PARASITES lurk everywhere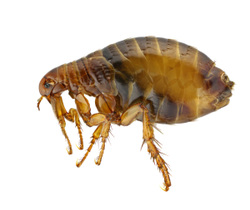 Fleas! These tiny insects cause major itching and discomfort that may give your pet skin problems, including hair loss.
If your pet has fleas, they may be scratching more than usual or biting at their coat. Although problems caused by fleas vary in severity with due diligence and preventative measures you can help keep your home and your pets flea free.Veterinarian approved preventative flea control used monthly can help keep populations from blooming If you are to become infested with fleas there are a variety of measures you can take in addition to treating your pet with good quality flea control to get ahead of the flea population.
Treating or replacing carpets, bedding, and other surfaces your pet comes into contact with is a good step towards removing fleas from your home. We recommend Knock Out Area Flea Treatment Spray and Knock Our Room Foggers for small and large location issues. (These are not products to be used on your pet, and in the case of the fogger you must vacate the premises for a period of time for you and your pets safety).Regular vacuuming and emptying the container after vacuuming will help remove flea eggs from your home. Treating all pets inside and out on your premise with monthly flea control is beneficial for your pets to not become re infested or a single pet to be singled out by the fleas. It is also recommended to bathe effected pets prior to flea treatment wait 24 to 48 hours then apply product.
---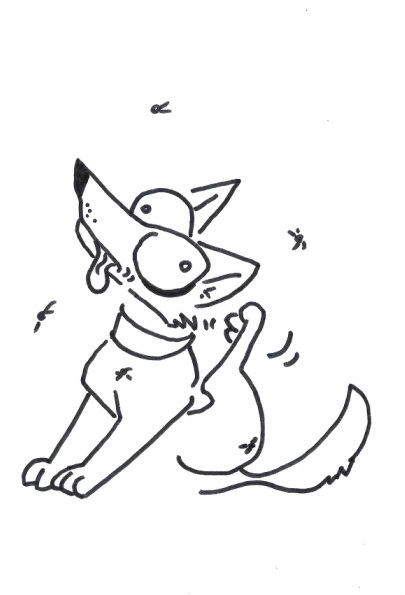 NOT ALL FLEA TREATMENTS ARE SAFE AND EFFECTIVE.
Working with animals we see a lot of stories about flea products found outside of the vet clinic.
Due to the types of chemicals that companies use for flea control and prevention being very volatile it is recommended to consult with your vet before using any product not purchased from your veterinarian.

Several things to consider when purchasing flea products:
Do I have an accurate weight on my pet?
Using too much can be harmful to your pet, using to little you're wasting your money because it isn't going to work.

Is the product intended for a different type of animal?
Dogs and cats are more than just different in size, their bodies metabolize differently. Medicating your pet with any medication that is not intended for that pet can cause harmful and potentially fatal results.

Is my pet old enough to use this medication?
Even vet approved flea products have age or weight requirements and not all products are approved for nursing parents or kittens/or puppies

Is it Safe?
The products we carry are safe and because we are selling them the manufactures back their safety and efficacy.
Always talk to your veterinarian before using a product on weak, old, medicated, sick, pregnant, or nursing pets, or on pets that have previously shown signs of sensitivity to flea or tick products. We can recommend based on your pets health status what products would best serve your pets individual needs.


Does it prevent future fleas from hatching?
The products we sell kill and prevent 3 out of the 4 life stages a flea goes through in its journey from egg to adult. These products prevent sterilize and kill adult fleas, prevent their eggs from hatching and kill the larva stage. There is no safe product that can penetrate the pupae stage. Fleas can live in this state for many months at a time, this is what makes it so difficult to get ahead of flea population blooms once they arrive.
Many products on the market not only do not prevent future fleas from hatching but only work on adults. Many of these products are also not waterproof or leave an oily residue on your pets coat. Our topical products are quick to absorb into your pets system and leave no evidence of their application. Once they are dry your pet is safe to touch and nothing will come off on you or you clothing. All of our flea products provide 30 day protection each dose and are waterproof. These features help you in the fight against fleas.


---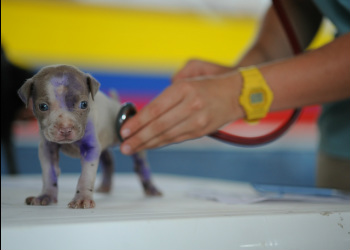 Roundworms, also known as ascarids, are parasites that live inside and feed off an animal's intestines.
They're usually white or light brown and a few inches long. (They look like spaghetti.) If your pet has roundworms, you may notice them in his poop or vomit.
Not all pets show symptoms of being infected, but many do.
Here's what to look for:
· Pot-belly
· Weakness
· Diarrhea
· Vomiting
· Belly pain
· Dull coat
· Weight loss
· Roundworms in poop or vomit

Even after your dog is treated, he should get regular fecal exams.
These parasites are common. Puppies have the highest risk of getting them and becoming sick.

Your pet may get them from:
The mother.
If your pet's mother is infected with roundworms, she may pass them before he's born. Or he may get them by drinking her milk.
The environment. Your pet can get roundworms if they eats roundworm eggs that come from another animal's poop, or if they eats mice or other small animals that are infected.

This is how the cycle continues: After your pet swallows the eggs, they hatch and turn into larvae. The larvae then spread through your dog's liver and up to his windpipe. Next they coughs and then swallows the larvae. That's how they get into their intestine, where they can grow into adult worms. Then they lay their own eggs, which continue the cycle.

Roundworms spread easily. One roundworm can produce up to 85,000 eggs a day
Regularly do fecal exams to check for intestinal parasites, our tests usually take 24 hours and we can inform you if your pet has parasites.

Keep your pet on monthly flea control this will help limit their exposure to intestinal parasites.

If your pet is a female, treat her before she breeds and again during pregnancy. Make sure puppies and kittens are treated for parasites as well. Call today to ensure that your pet get the appropriate medication, timing and dosage.

Keep things clean, including the areas where they eat, sleep, and play. Clean up after your pet in your yard and also in the park. Don't let your pet use a playground or sandbox as a litter box.

Talk to your doctor about your pet's lifestyle and exposure to potential parasites, we can help you ensure your pet is best protected.


---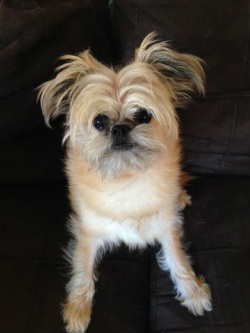 5 Common Questions about Parasitic Infection

What is parasitic zoonosis?
Some parasitic infections in pets can be transmitted between animals and people.
The three most common zoonotic internal parasites in pets are roundworms, hookworms and tapeworms

Who is at risk?
Parents should be aware of these parasitic diseases because young children are especially at risk. Children are often less careful about hygiene, more likely to put their hands in their mouths, and commonly play in dirt grass or sand.

How are these infections transmitted?
Children become infected by playing in soil or sand that is contaminated with fecal matter then they put their hands or contaminated objects in their mouths. Hookworm larvae can penetrate human skin.


When are these parasites a problem?
Internal parasite eggs and larvae are virtually everywhere in the environment and can surivie in the soil for years waiting to infect pets or people. Some species thrive in warm climates while others proliferatedin colder regioumns. This is why routine fecal tests, deworming and preventative steps are truly important.


---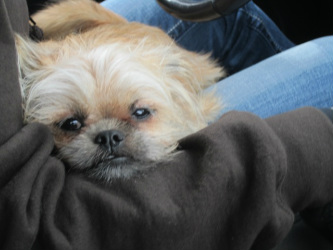 For more information about potential human health concerns regarding parasites and pets see the links below:

About parasites and pets: http://www.cdc.gov/parasites/animals.html

About Toxoplasmosis: http://www.cdc.gov/parasites/toxoplasmosis/resources/printresources/catowners.pdf

About Tickborne diseases: http://www.cdc.gov/ticks/diseases

Healthy Pets and Healthy Humans: http://www.cdc.gov/healthypets/

---
Ticks
attach themselves to the animal's skin, where they suck blood.
Dogs are very susceptible to tick bites and tick-borne diseases. Vaccines are not available for all the tick-borne diseases that dogs can get, and they don't keep the dogs from bringing ticks into your home.
For these reasons, it's important to use a tick preventive product on your dog. Our Flea products also prevent against ticks
Tick bites on dogs may be hard to detect. Signs of tick-borne disease may not appear for 7-21 days or longer after a tick bite, so watch your dog closely for changes in behavior or appetite if you suspect that your pet has been bitten by a tick.
To reduce the chances that a tick will transmit disease to you or your pets:
Check your pets for ticks daily, especially after they spend time outdoors.
If you find a tick on your dog, remove it right away.
Ask your veterinarian to conduct a tick check at each exam.
Talk to your veterinarian about tickborne diseases in your area.
Reduce tick habitat in your yard.
Talk with your veterinarian about using tick preventives on your pet.
Note: Cats are extremely sensitive to a variety of chemicals. Do not apply any insect acaricides or repellents to your cats without first consulting your veterinarian!
Giardia is a common, microscopic (intestinal) parasite that commonly affects humans, dogs, and cats. Common signs and symptoms of Giardia infection (in both humans and pets) are diarrhea, gas, abdominal discomfort, nausea, and vomiting. However, it is possible to be infected and have no signs or symptoms of illness.

Giardia can be transmitted by eating or sniffing the cysts from contaminated ground, or by drinking contaminated water. Giardia can cause diarrhea in humans and can potentially be passed from dogs to humans.

If your dog is diagnosed with giardia, environmental disinfection and good personal hygiene are important to prevent accidental spread to humans. In particular, people with immunodeficiency, such as AIDS or cancer, or who are undergoing chemotherapy, should use extreme care, especially when handling feces or after administering medications.

For environmental disinfection, you can use chlorine bleach at 1:32 or 1:16 dilutions, or 1-2 cups in a gallon of water (60-120 mls/L). However, be sure that the affected surfaces can be safely treated with bleach. Lysol® and quaternary ammonium compounds (Parvosol®, etc.) are also reported to be effective in killing the cysts. Giardia cysts are susceptible to drying so try to keep your environment as dry as possible. For best results, thoroughly clean the pet's living and sleeping areas and then allow the areas to dry out for several days before reintroducing pets.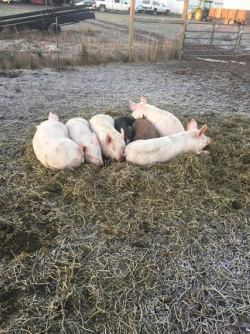 IN LARGE ANIMALS (goats sheep cattle llamas pigs etc)
Over the last several years it has been made aware that due to over use of parasite control medications in farm animals (primarily but small animals as well) an up rise in parasite resistance.
What this means is over using medications or using the wrong medications to fight intestinal parasites has made them STRONGER, harder to fight and the medications less effected.


This being said it is recommended not to do routine deworming on your herds, rather to do routine fecal checks on your herd to ensure that you do in fact need to treat rather than making potential problems worse and making sure that the medication you are using correctly fits the parasite you are trying to rid your pets of.

We can do these tests in clinic, they can take up to 24-48 hours. We offer a discount on multiple submissions. We only need a small sample free of debris, fresh and refrigerated. Please label each sample clearly.
---